Have you been led to believe these summer feeding theories are true? We are here to let you know that your hobby can most definitely continue throughout the summer months! Bird Feeding is our hobby, and the effort and knowledge that we put into it determines the results and satisfaction we get!
(Read below for more information regarding feeding year round!)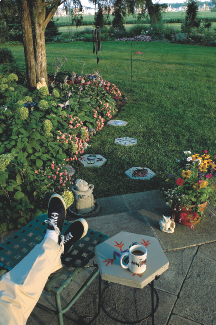 Yes, it is more important to feed during the winter months due to the reduction of natural food supply, however, even during the summer when food is abundant, birds only receive about 20% of their daily intake from our feeders. So, why continue to feed when there is plenty of natural food for them to find? Well because bird feeding is just that- OUR HOBBY! By discontinuing your hobby through summer, you are losing the amount of bird activity at your feeders and then will have to work at getting that activity back. Local birds will find a reliable feeding station which allows migrating birds to find and visit your feeder for a nutritional meal and an "out-of the norm" bird appearance for you to enjoy! Keeping your feeders out will not deter the birds from migrating. The cue for a bird to migrate is the change in the climate and length of the day. Most migrating birds are in a hurry to get to either their wintering grounds in the fall, or their breeding grounds in the spring. Feeding year round also allows for injured or ill birds to find sufficient food when they are weak and in need- you could save a bird's life ya know!
Speaking of breeding- Nesting season normally occurs between the spring and summer months for most birds. During nesting season, the energy demand is much higher requiring birds to eat more than usual. Most of our food products also include added calcium for the development of the eggs and strengthening of bones. Once the babies have hatched, Mommy and Daddy will show them the way to your feeders!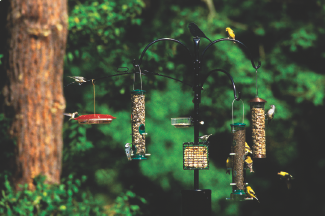 In addition to taking down their feeders, unaware hobbyists also proceed to take in their bird baths in the warmer months since there is a natural water supply. The benefit of continuing to offer water, along with nutritional food, is that water alone brings in bird activity. Birds need to regularly bathe to control body temperature in the warmer months as birds have a naturally higher body temperature than most species due to their high activity and metabolic rate. Offering water also provides drinking water and somewhere to rinse off any dirt or pollen collected on the feathers which could make it hard for a bird to fly. By adding a Water Wiggler or small fountain to your birdbath, mosquitos and other insects will not be able to lay eggs in the moving water and the ripple effect will attract bird activity.
Bird Feeding is an exceptional hobby which only takes as much effort as you want to contribute. Continuing to offer food- AND WATER- throughout the spring and summer is beneficial to your hobby. We have everything you need to feed year round!
Drop-in to pay us a visit! We can talk birds or answer any questions you might have!