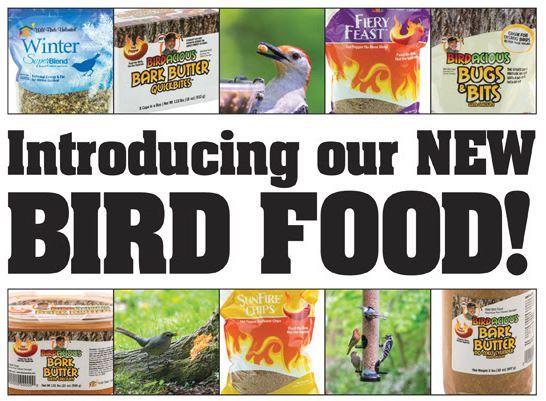 New Foods Your Birds Will Love!
Available exclusively at Wild Birds Unlimited, our experts have designed a variety of new foods that your birds will love!
New Nesting SuperBlend™ is available in loose seed or cylinders. It provides birds a super-boost of the protein and calcium they need as they build a nest, lay eggs, raise their young, and go through their post-nesting molt.
Add some fire to your feeders with Fiery Feast™ and SunFire™ Chips loose seed! That's right these are our first ever hot pepper loose seeds and they contain a higher heat level which is more effective at deterring squirrels and other critters.
We've expanded our very popular Jim's Birdacious® Bark Butter ® Foods to include a Bugs & Bits™ Blend, Hot Pepper Bark Butter® Tubs, Bark Butter® Cylinders and QuickBites™ Bark Butter®.